Nutaku
Trending
Nutaku Game Review 2021 [Leaked Images and Free Tokens]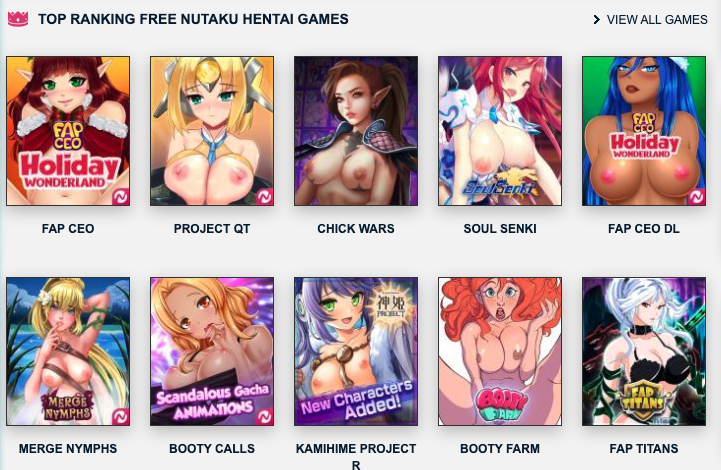 Nutaku is the largest porn game online. You've either come to this article because you came across the name while surfing the web or you want a sneak peek into the gameplay. For whichever reason, this article will cover all your needs so continue reading my Nutaku review.
One good thing that has come with the passage of time over the last few decades is that people are becoming way more accepting and open with their sexuality. This means that many platforms are becoming sexier than they used to be.
There was a time where a lot of what is normal today was considered taboo. This change has made its way into many entertainment platforms, and no one is complaining. It certainly puts a great spin on enjoyment.
Video games have had quite an interesting relationship with sex. In the old days, games would do no more than hint at sexual relations between characters. Over time things evolved to where games such as God of War allowed you to hear the sex without showing the action.
Then there was the famous Hot Coffee mod for Grand Theft Auto: San Andreas, with just light censoring. Of course, there are more recent games such as Mass Effect and The Witcher 3: Wild Hunt, which also take things to a more detailed level with better graphics.
While all those games contain NSFW content, you can't help feeling that they are approaching a line without ever crossing it.
Nobody making a triple-A game wants to get slapped with the infamous adults-only rating, as sales would tank.
However, there is a group of games that dare to cross the boundary. They aren't shipped or advertised through conventional methods, but they have a dedicated fan base.
These are the games that show you all the sexy stuff you want to see in beautifully rendered glory. If you love sex content and you love video games, this is where you get to enjoy the best of both worlds.
There's a level of immersion that you can't get from watching porn unless you're shooting for VR. It's the advantage that video games have always had over movies. How can there be more immersion than the thing that works based on how you control it?
Nutaku is one of the leading places today for you to get your fix where this kind of content is concerned. There's an endless sea of video games with an adult twist present to satiate your appetite, no matter how large it may be.
---
About Nutaku
There are numerous people around the world who have heard about Nutaku before; however, many of them have the concept of the site very wrong. The platform is not a game as many are led to believe.
The first point to note is that Nutaku hails from the team at Mindgeek. Does that sound familiar? If it doesn't, Mindgeek is the owner of some of the most popular adult sites, such as SpankWire, RedTube, and the very popular PornHub.
Nutaku, which boasts a user base of over 20 million, is a gateway to an unbelievable catalog of some of the greatest erotic videos that you can get your hands on.
There are hundreds of video games for you to explore and conquer (depending on how you look at it). This is because of the number of developers who are continuously creating content for the platform.
Initially, the Nutaku team had to be reaching out to these devs with the hope that they would consider creating games to be placed on the site. However, as the site's reputation skyrocketed and more users began to show up, developers have been throwing entries at the site.
About 40% of the current user complement is active daily, with most others being active on an almost similar schedule.
One of the standout things about Nutaku is how well put together it is and the level of detail that went into securing the site.
When you browse to a lot of the current adult games on the market, the aesthetic that you're greeted with is questionable at best. It's as if you've just walked into a scam. There's a feeling of unease that doesn't seem too keen on disappearing.
The look and feel of Nutaku don't have this effect. Instead, it feels as if you're dealing with a legitimate site, and that's because you are. Nutaku is one of the few adult video game platforms that bothered to secure its web pages.
The site is secured with SSL encryption that is verified by Bitdefender. In case you've never heard of Bitdefender, feel free to lookup a list of the top security platform providers, and you're sure to see Bitdefender pop up.
This means that any transactions you do and any information you enter on the page is stored securely. There is no need to worry about unwanted data leaks or any interference from external entities.
Nutaku also isn't into selling your information to any third party, so there's no need for you to have any worries about that.
---
The Plot of Nutaku
There isn't a plot associated with Nutaku, because it's not a single game. It's not even like some of these sites that have a single game by the brand name with a collection of other offerings.
Nutaku is simply a website platform filled with games for both PC and mobile platforms. Some are downloadable, and there are even games for the LGBTQ audience, so no one feels left out of the mix.
---
My Review of Nutaku
The first time I went on the site, I can remember thinking, "Yup! This site is for me?" Why was that my initial thought?
Well, the site indicated that there was a bunch of hentai-themed sex games for me to sink my teeth into. "Shinobi Buster" is one of my favorites, which I expected to be the case as soon as I saw the name.
Seriously, you can't get much more anime than a title like that one. What I love is that most of the games here aren't throwaways. They're not just a bunch of excuses to get you to create an account or spend some money.
There are some very solid video game experiences behind the hentai behemoths. You can even find a nice little challenge hiding in some of them.
---
The Pros of Nutaku
The next thing is to clue you in on some of the upsides of Nutaku. These are as follows:
There is no end to the amount of hentai you can experience on the site. Seriously, it does feel like striking hentai gaming gold.
It's not just games either, as there is a slew of hentai video content for your lustful eyes to enjoy.
The design of Nutaku is very well done and intuitive, which makes it a breeze to navigate and use.
The art style that is prevalent across the site is a very sexy one. It's hard to resist being turned on as you venture deeper into the onslaught of content that awaits you.
There are games that you clan play online, and there are others that you can download. This puts an even greater power of choice in your hands.
Free to play games are present, which means that you can enjoy the site as a free user.
LGBTQ inclusions mean that anyone can have fun on the site, since not everyone gets turned on at the site of heterosexual scenes.
Nutaku has been optimized for numerous devices. It's not just a PC thing. Feel free to take your experience to your mobile devices too, and you can still enjoy a seamless playthrough.
The games present all sit within the realm of reason as the site owners do not condone games that promote certain issues such as rape.
The Cons of Nutaku
Nothing is perfect, and Nutaku is no different. There's no denying that Nutaku does a lot right, but there are a few downsides that need to be highlighted too. These are:
You can't play any of the games on the site without signing up. Depending on how you look at it, this isn't even a bad thing. It's not like you're forced to begin throwing money at the site just to use it. The account is free, and it takes a short moment to get registered.
Get ready to be faced with the burden of choice like you never have, as you are sure to struggle with picking out something to play.
What Is Hentai?
So, throughout the article, you would've seen me throw around the word hentai a couple of times. While it's a common term among anime enthusiasts, you may not necessarily be familiar with it. Here's a little explanation for you.
Hentai is a term that sits solely within Japanese anime productions. You can find the subgenre within both Japanese anime and manga. In it, characters are oversexualized, and you can expect to see a lot of sexually explicit plotlines and images.
It's a huge hit with those who are into it, and I can guarantee you that Nutaku's hentai games are incredible.
---
Other Comparable Games
Comparable Game: Make sure to check out our review on West Sluts
Comparable Game: Make sure to check out our review on NarcosXXX
---
My Final Verdict
I'm not sure what else I can say about Nutaku that hasn't already been said. It's like a Steam platform for adult-themed hentai titles.
The site is very well put together, and there is an endless library of fun to be had. The account setup is free, and the environment is secure. Make sure to check out the terms and privacy pages before signing up. For any unanswered questions, check out the FAQ page.
Based on all this and the numerous advantages, I say jump on in!
---