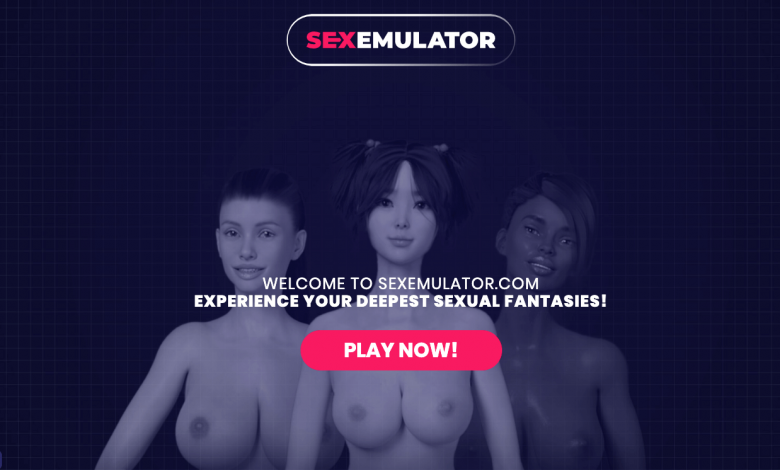 You came across SexEmulator online and have questions… or you've never heard of the game but want some something more in your life. Let me tell you about SexEmulator.
Watching porn is one way to relieve sexual tension, but there's an interactive element that's missing from the experience. What if you had more control over the various happenings of a steamy session?
In a sense, it would be as if you were directing your own show. The difference lies in the fact that the cast members only exist for your pleasure. How does that sound? By now, your interest should be piqued.
This is also the part where you find out that such an inclusive experience does exist in the form of SexEmulator.
Imagine being able to customize everything from the character, to what can be done, to what is done. It's not unlikely that such an immersive activity could keep you busy for hours on end. Going this route satisfies your craving in a different way than porn does.
Though the game may be rendered in 3D, which is a different touch from the realism of porn videos, the lifelike behavior of the models should make that a non-factor.
Now you can have the fuck buddy you've always dreamed of who is ready to meet all your naughty little demands.
The idea of this review is to shed a little light on what the game is and how it works, so you can have a better idea before you decided to go all in.
---
First, About SexEmulator
SexEmulator was created to be a definitive 3D sex simulation experience that is tailored to the desire and wishes of the player.
Right off the bat, you get more than a basic taste of the game before you need to commit to a membership. You're presented with a virtual model that asks a few questions to tailor your experience.
These questions cover various bases, such as:
Breast size preference
Ethnicity preference
The importance of multiplayer to you
Hair color preference
Once you've gotten through those questions, you are then thrown into a first-level experience. The idea is that you can choose what you want your fantasy girl to do based on a series of options presented to you.
She can do foot fetishes, anal play, blowjobs, etc. This hub area could be a full game, but you should know that it's not the definitive experience. Should you decide to sign up, a specialized member's area with a whole suite of games awaits you.
The content area is rich when you become a member as you have a ridiculous number of games to choose from. There are even live sex cams for you to view if you are so inclined. Don't be surprised if you find yourself losing track of where the hours went.
---
The Plot of SexEmulator
The base SexEmulator game is geared towards improving your dream girl skill by skill until she inevitably levels up. It's a simple case of practice that makes perfect. The more she does a certain skill, the better she gets at it.
Upon your initial entry, you may realize that the perspective used is like that which you may see on a live webcam show. The idea here is to give a POV feel, so the player is made to feel like the focal point and the center of attention.
You design your new fuck buddy from the ground up, and her body isn't the only thing you can bend to your will. You decide what you want her to become better at from the list of skills available.
As you level her up, the virtual environment expands by increasing her professionalism, unlocking new skills, and giving you access to an increased variety of sexual actions. Even the scenes gain more variety as she can begin to indulge in interracial activities, gangbangs, and even threesomes.
Eventually, you end up with a virtual girl that has the kind of skills to please and appeal to you. Hopefully, you can maintain some semblance of control as you play, considering how steamy things can get.
---
My Review of SexEmulator
Let me start by saying that I had a TON of fun with SexEmulator. This was my first time trying to get turned on with a video game since the premise was always a questionable one for me. All the women I found attractive were real up to this point.
Even the ones in the porn videos that had no idea that I existed were real women with real body parts. So, how was some virtual creation going to achieve the same effect?
Anyways, I wanted to give her a fair chance, so I went through the brief questionnaire and creation suite. I must say that I like the way how SexEmulator starts off. Most sites don't give you access to anything before you're required to sign up.
With SexEmulator, you get to enjoy some of the gameplay before you need to give any information to register for anything.
The girl is very responsive, and her voice is very seductive. The way she spoke and responded to my commands was jaw-dropping. You can't even begin to understand the extent to which I wanted to rip her out of the computer screen and fuck the hell out of her.
I think the devs did a really nice job here. The sign-up was brief, and then it was back to developing her and watching her gain the ability to do more.
I also got access to some other games, which I initially barely tried because I was so addicted to the base one. Eventually, I got around to many of them, and they were surprisingly very good!
---
The Difficulty of SexEmulator
Even for a non-traditional gamer, there is no difficulty curve associated with the game. Would difficulty be necessary? How would it work?
The game is better off this way, as attaching difficulty could easily turn off potential players. The only difficulty where this game is concerned comes in the following forms:
Keeping your anticipation in check as you wonder what your virtual girl has in store for you with each level.
Deciding how to deal with the inevitable arousal
Choosing what game to play from the massive catalog you get access to upon becoming a member
It's not the hardest set of things to think through, but that's as "difficult" as SexEmulator can get.
---
Pros and Cons of SexEmulator
Pros
The following is a list of the advantages of playing SexEmulator:
Tailored experience to suit the player's specific needs
A POV camera perspective to provide a heightened sense of immersion
A "trial phase" where you can take advantage of several options to gauge your interest before you sign up
A member's area that gives you access to a plethora of additional gaming content.
No charge for the basic experience
Titles are categorized for ease of navigation
Customer service is available to address any issues you may have during your time with the site
Cons
In the same breath, here are the downsides of picking up SexEmulator:
The catalog of games is sorted to a limited extent.
---
Other Comparable Games
Comparable Game: Make sure to check out our review on Grand Fuck Auto
Comparable Game: Make sure to check out our review on VRFuckDolls
---
My Final Verdict
So, what do I think about SexEmulator based on all of this? It's amazing, to say the least. I had no idea that a virtual girl in a virtual environment could do all of this for me. It's like I have absolute power.
Additionally, if I ever do get bored of her, I can check out live cams or some of the other games as I jerk off indefinitely. It's all you could ever want.
---