SexSimulator
SexSimulator Game Review for 2021 [Leaked Images and FREE Tokens]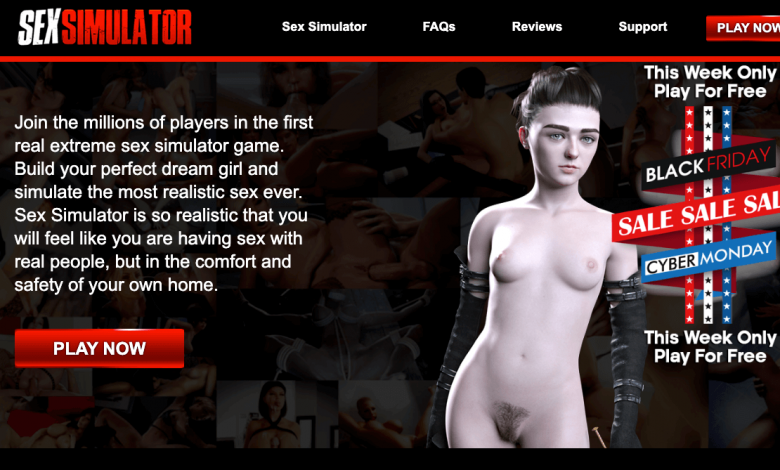 SexSimulator is a porn gaming site that seems to have taken the community by storm. If you look in the right places, it seems like everybody is talking about Sex Simulator.
Porn accounts for some of the most viewed content on the internet. There's an appeal to it that you can't just explain. It needs to be felt, and I'd be lying if I said that I'd never felt it myself. There's just something very appealing about watching two or more people going at it and smashing their privates together.
Of course, you can also give yourself some of the pleasure down under while you watch the videos, which makes the experience even better.
While watching a narrative play out on screen is so appealing, an argument must be made for controlling that narrative yourself. After all, if there's something you'd like to change about the way a sex video plays out, there's not much you can do but use your imagination, right?
This is where sex games come into the picture, as they are great for getting your dirty little creative juices flowing. In fact, those may not be the only juices flowing when all is said and done.
While sex games contain a lot of sex, they're also games at heart. This means that you have quite a bit of creative control over whatever the heck is happening on your screen. This is the reason that I prefer the games to the videos so often.
Today's review is of a little site named SexSimulator and the erotic gaming experience that you can expect once you hop over there. Happy reading!
---
About SexSimulator
As soon as you decide to browse the page for yourself, it's not hard to see why. You see, most of these porn game sites like to make an impact, and SexSimulator makes a huge splash almost instantly.
You're greeted by a visual of some 3D models really getting the stuffing pounded out of them. The funny thing is that it's a background video. There's something you should be doing on the page at this point, but your attention is commanded by the scenes that are unfolding.
Once you can hold it together, it's time to answer the required questions for you to jump into the fun headfirst. The questions just help the site to have the basic information it needs for its users. Therefore, you're required to select your gender, the gender you desire, and the age range that you prefer.
Note that the background video is "complemented" by the most seductive sounding voice that articulates the questions that you're answering. Once you get through the few questions, you complete the signup process, and you're in!
SexSimulator may not be what you expect because it's not a site that's dedicated to a single game. In my opinion, what you get is better than anything you could've hoped for.
Instead of a single game, you get access to multiple games and a slew of porn videos. All that should keep your horny appetite satisfied for a very long time.
---
The Plot of SexSimulator
Honestly, SexSimulator doesn't have much of a plot if we're talking about the base game. Depending on who you are and what you like, this may not even matter to you.
You see, some people play these games just for the level of control they have over everything. After all, the best porn content is the type that you create for yourself. Others (though they are few) want an engaging story that ties everything together.
I'm one of the people who fall under the former category, so the lack of a story is no issue for me.
---
My SexSimulator Review
So, I tried SexSimulator based on a recommendation from a very good friend. You see, my friends know what I'm about, so there's no way one of them could discover such a site and not instantly let me know about it.
I went to the site, and I was blown away by the visuals before I noticed anything else. The site was prompting me to click a button to start, but I was fixated on the detail of the 3D models. I already loved it, and I hadn't gotten anywhere yet.
Luckily, the background video package was a scene compilation that was on a loop, so after seeing it run several times, I was able to gather my composure.
So, I finally clicked the button, and this female voice greeted me and welcomed me to the site as I was prompted for my gender. If there were ever a voice that could trigger an orgasm, this would be the one.
I went through the options and had her voice grace my ears with each one. I had to select my gender, the gender I prefer to get busy with, and my preferred age.
At this point, I was asked if single-player or multiplayer interested me more, and once I made my selection, I was brought to the signup area.
The form was very short, as it only required the following:
E-mail address
Desired password
Name
Zip Code
Country
Once I keyed in all of that, an e-mail verification was required, and I was in. This is where I was truly blown away. There are over 450 games on the site to enjoy. Of course, there are a few of them that are real stinkers, but most of the ones I've tried so far are surprisingly well put together. This is one more reason that the base game's lack of a story is a non-issue.
Additionally, I was given access to a boatload of digital DVDs that offered me the option to download them from the site. There are a ton of videos with varying lengths there, and the quality is very good.
Overall, I was very impressed with my experience.
---
The Difficulty of SexSimulator
The SexSimulator base game doesn't have a steep learning curve or great difficulty. Don't be surprised if the most difficult thing you encounter is trying to control yourself as you dive into the sea of content.
Most of the games require your use of the mouse and keyboard in various ways to play them and perform in the sex scenes, but that is nothing difficult, so there's no need for you to worry about that. Check out SexSimulator's FAQ page before you start playing.
---
Pros of SexSimulator
The next thing is to highlight some of the high points about SexSimulator. These are:
Load times are very fast
Servers used for providing DVD downloads are well maintained
Signup process is remarkably easy
Most of the games are well designed
Large amount of bonus content to enjoy
Site design is modern and intuitive
---
Cons of SexSimulator
Of course, the site also has a couple of low points too, which are as follows:
A few of the games are not very good
Some of the DVD videos are too short
---
My Final Verdict
SexSimulator is a great site for you to enjoy some of the most high-quality sex game content that you can get your hands on today. Check out the privacy page before you signup. You can tell that the site was designed with the intention of pleasing its visitors, and it achieves that in a stunning fashion.
The signup is easy to SexSimulator, and the payoff is great. Therefore, I highly recommend this site.
---