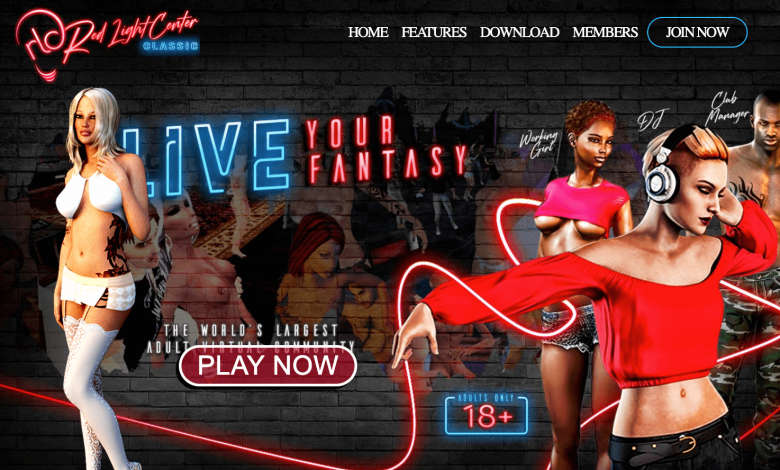 So you're interested in the porn game Red Light Center but want some more info? Or maybe you just want to get a sneak peak to see if its worth it. I got on the game and tried it out personally so please continue reading to get more information.
Remember the first time you found out about porn. The chances are that it was a huge revelation to you. Seeing the sex was one thing. However, knowing that it was on-demand and that you could watch it whenever you wanted was a mind-blowing experience.
It was like you now had all the power in your hands, and you were ready to use it. Video gamers probably had a similar experience in their introduction to video games. They probably had seen movies and cartoons up until that point, and they realized that games had a level of control that was different from anything else.
In video games, the experiences were controlled by the player. Whatever unfolded on screen wasn't something that was directed and set in stone. Instead, it was a direct result of the inputs that the player entered.
Red Light Center is where the two come together. Imagine having a virtual sexual world at your fingertips, which is shaped by you and countless other players around the world.
You may not be able to act out these fantasies in real life for numerous reasons, but you can easily do so on the internet.
---
First, About Red Light Center
The first thing you should know is that Red Light Center holds the distinction of being one of the most widely acclaimed sex games available on the internet. There are over three million players around the world who connect to get their freak on.
The MMO game gives access to a virtual 3D world where people can embark on crazy sexual adventures together. As you traverse the world, you can see that sex is the central theme as you can find a host of adult communities, brothels, strip clubs, and even bars.
This is where you go when you want to do something sexual that may not be possible in the real world. Even if it is possible, maybe you just like the idea of exploring your sexuality in a virtual space that encourages you to do so.
The avatars are all customized and operated by people you may never know in the real world. All the facilities in the in-game world are open around the clock, which means that you can jump in whenever you wish.
The graphics are sensational, which is another reason for the game's success. If people are going to get into a sex game, it needs to at least look like a real sex game, if nothing else.
Being able to do and say naughty things without having to care about what people may think or say is a huge plus.
Getting started is not very hard. There's a menu available, which is very simple to navigate, which helps you to set up everything you need to get started in the game.
You can enter the informational details required, customize your avatar, and jump into the world to live out your innermost fantasies.
---
The Plot of Red Light Center
The virtual world that the Red Light Center avatars explore isn't some random, no-named place. The world is named Ultherverse, and it is themed after a place that exists in the real world.
If you're familiar with the Red-Light district of De Wallen in Amsterdam, you can begin to see the references almost immediately.
The idea is for the various members of the virtual society to communicate with each other and have fun by enjoying sexual gratification.
As a member of society, you have your own virtual home, which can be customized based on your desire and on the amount of wealth you possess.
On the matter of wealth, Ultherverse uses its own virtual currency, which is known as the ray. You can get these in-game, or you can convert real money to rays if you so desire.
Rays can be used in-game for many of the same reasons that you use money in real life. Maybe you see someone you're interested in, and you'd like to buy a drink. Maybe you want to invest in one of the world's businesses.
Of course, many of the booming businesses are themed around sex, which is a very lucrative industry considering the game's premise. It can be a rewarding experience with some sweet rays if you invest in the right one.
There are also various groups of people in the game who share similar interests. For example, there's an LGBT community, a public sex community, a furry community, etc. These people can enjoy each other's company and have sex in the way they like.
You can think of the plot as being centered around a real-life community that thrives on the pleasure and business of sex. Just as it is in the real world, you play the part of a single member of a larger world. Make sure to check out the game rules before you start playing.
---
My Review of Red Light Center
This game is by no means my first experience with a sex game. In fact, these games make up a much larger amount of my sex life than I care to admit. Be that as it may, I felt like I got a fresh experience as I played this game.
I was taken aback by the sheer realism that is a huge part of the gameplay experience. It is unbelievable how many elements of real life made it into the virtual world.
The currency, the way everyone communicates, the way the world responds to the actions of its members, etc., all blew my little mind.
I also need to give a special mention to the incredibly graphic and sound design. I think one of the reasons why this world stands out the way it does is the fact that the sights and sounds really resonate with you.
The normal world sounds are good enough, and the sexual sounds are even better. You really feel a sense of pleasure and enjoyment as you live vicariously through your avatar.
I find that the menu options are very easy to understand and navigate. Though I'm an experienced gamer, I have no doubt that even the less experienced persons can pick up this game and navigate the menu to achieve the outcomes that they want.
The economy is another of the standout aspects for me. While I could just buy rays for my avatar with real money, there are in-game ways for me to earn rays that I can spend to improve my home, buy gifts, etc.
Investing in one of the existing businesses is an option, or I can create my own (which I did). There are so many small touches and doses of reality that I found myself having a truly satisfying experience with the game.
The final thing I want to touch on is sex. Oh, my goodness, the sex is good! I can't count how many positions, variations, locations, etc. factor into the sex. You can do just about anything with any number of people where sex is concerned, and it is perfectly detailed.
---
Pros of Red Light Center
Amazing graphics
Fully realized world
Other human players
Real-world elements
Fantasy realization
Easy sign-up process
Available for both Mac and PC
Teledildonic support
Easy navigation
Live voice chat
---
Cons of Red Light Center
In-game ads can't be switched off
Addictive
---
Other Comparable Games
Comparable Game: Make sure to check out our review on SexEmulator
Comparable Game: Make sure to check out our review on Grand Fuck Auto
---
My Final Verdict
If you can't tell, I'm a huge fan of Red Light Center. I have sunk so many hours into that game, and I'm not done yet.
There is nothing bad about the game that outweighs all the wonderful pieces it brings together. Do yourself a favor and jump into the fun!
---